The Vacation Buggy
FREE Welcoming Tour In the Go-anywhere ATV Limousine!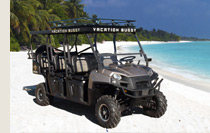 In partnership with Vacation Buggy, the owners of your Luxury Vacation Rental want to ensure your vacation is one of the most memorable experiences from the start - so they have included a Vacation Buggy Welcoming Tour for you to quickly and conveniently get acqainted to the area.

Key locations that will be identified include:
• Various Beaches
• Fabulous Restaurants
• Bars and Nightlife hot spots
• Banks and ATM's
• Grocery Stores and Fish Market

• Pharmacies
• Post Office
• Great shopping spots
• and Much More...

Ask your concierge to schedule your complimentary Welcoming Tour Today!





Buggy Adventure Tours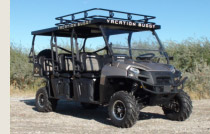 – Private Buggy Tours

–
Duration - you choose!
Design your own tour for your perfect day out. Include a unique destination, picnic or ask that special someone a very important question. These tours are available to couples, entire families or groups. Please enquire for pricing information.

Our favourite suggestions:
Take in the scenic southern route as you travel down the Pan-American highway and visit the small beach town of Dominical. An exciting beach for surfers and those looking to explore the Costa Rican coastline. Continue about 30 minutes south of Domincal into the small yet cultural town of Ojachal, a perfect stop for lunch, as there are a variety of delicious restaurants. You may also be interested in visiting the Hacienda Baru National Wildlife Refuge, Nauyaca Waterfalls or Marina Ballena National Park. Beach and river picnics can also be arranged!



– Jungle and Waterfall Tours –







Our most popular tour, this exciting trip provides an opportunity to enjoy the diverse beauty of the countryside as we travel deep into Costa Rican rainforest on this thrilling four-wheel-drive excursion. With significant wildlife, nature and an overall sense of tranquility, you will experience the jungle at its best. We will travel up the mountainside through beautiful environments, crossing streams, palm plantations, local towns and journey to a spectacular waterfall. After a mild jungle hike, we will cross over a thrilling suspension bridge approximately 130 meters long to two incredible waterfalls cascading 25 and 40 meters into an 8 meter deep natural swimming hole. Upon our departure, we will travel a short distance to one of the most incredible views that you can imagine overlooking the jungle, Savegre River and the Pacific Ocean.

Pick up and drop off will be at your Vacation Rental Home or Hotel.

Scheduled Tour Times: 7:30 a.m. & 11:30 a.m. Duration: 3.5 hour
Price: $79 per person (lunch included).

Private Tour with Driver: $425 for 3 hours.



Canopy Tours and Rappel Lines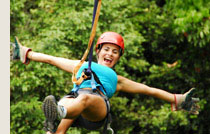 Experience Costa Rica's most popular adventure sport; the canopy zip line. Sail high above the rainforest canopy in this thrilling adventure. A spectacular river with dramatic waterfalls is the backdrop for these 21 platforms carefully built in the rainforest canopy. Traverse from tree to tree and platform to platform using pulleys on horizontal traverse cables. Complete with extremely high safety standards, bi-lingual guides and a delicious meal to follow.

Price $70 per person
Tour Times: Low Season: 8:15 am | High Season: 7:15 am, 10:15 am, 1:15 pm





Fishing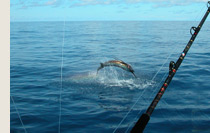 Quepos is one of the world´s finest and famous sportfishing locations. Marlin Magazine recently named Quepos one of the best locations in the world for sportfishing. In shore angling requires only a short run to the fishing grounds, is relatively inexpensive and offers great views of the coast. Expect Roosterfish, Mahi-Mahi, Jack Creavella, Snapper and Mackerel to complete your catch. The offshore drop off points will provide good numbers of Amberjack, Snapper, Tuna, Black/Blue Marlin and all the Sail Fish you can imagine, when in season, and a delicious meal to prepare once you are back at your vacation home. Fleets include local boats and an excellent service staff to accommodate all your needs. Excursions to the exclusive Marriot Los Suenos Marina about 1 hour north of Quepos near Jaco can also be arranged for a different price.





ATV Tours (Quads)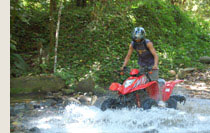 Experience the thrill of traveling on your own ATV into the mountains outside of Quepos. Here you will enjoy the spectacular mountain views, and the tropical rainforest as your bilingual guide leads you through rustic unpaved roads, giant African Palm Plantations, cattle farms, and typical towns such as Naranjito an Londres. Then they will take you to a breathtaking waterfall where you will have a chance to cool off in the refreshing crystal clear water and clean off some of the mud accumulated from your thrilling ride, then continue riding up and down the winding mountain roads, all the while surrounded by the lush and beautiful tropical foliage.

Price $95 per ATV | Additional Rider $20 | Tour Times: 7 am, 10:30am, 2pm



Whitewater Rafting & Kayaking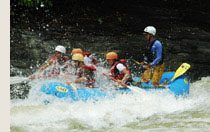 White Water Rafting and Kayaking tours through Costa Rica´s Central Pacific will make your Costa Rican family vacation unforgettable! Enjoy all the water sports that Manuel Antonio, Costa Rica has to offer you. From world class Whitewater rafting at just 30 minutes from the beach, in Savegre and Naranjo rivers to Ocean Kayaking through the Manuel Antonio coast line or Mangrove Kayaking at the Damas Island estuary, this tour will provide you with a safe and unique experience.

Price Full day $100 per person / Tour Time: 7:30 am - 4:30pm
Price 1/2 day $70 per person / Tour Time: 8 am – 12:30pm
Full day includes full lunch and snack, Half day includes snack



Horseback Riding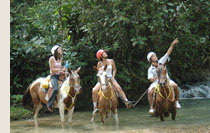 Beach Ride & Cattle Ranch


Learn how to canter on a horse. Ride on the surf from the beach ride inland to herd cows next to the Parrita River.

One hour riding time: $45
Two hour riding time (with lunch): $65
Pick-up time: 8:00 a.m.



Sunset Special (Nov 15 - April 30)


After riding instructions, saddle up to enjoy a magnificent isolated beach... open canter or just walk into the sunset. Fire torches light the way at the end of the tour.

Riding time is 1 hour, 30 minutes.
Price is $70 including a bottle of wine and snacks or $55 without.
If you are a moderate to advanced rider and want to ride for longer, just indicate when booking the tour.



The Horse Ranch and Rainforest V.I.P Tour


For experienced riders, come horseback riding at the best Equestrian facility on the Pacific Coast! Located at a Horse and Cattle Ranch, ride through the fields, herd cows, cross rivers, and ride through the forest. Riding time is 2 hours or longer. Tour includes fresh fruit and lunch. This is a 4 or 5 hour tour and the pick-up time is based upon your request.

Price $115.



The Waterfall Rainforest Tour


Ride through the forest where you may view wildlife and swim at a waterfall.

Riding time: 2 hours
Morning pick-up times: Leave 8:00 a.m. return 12:00 p.m. or leave at 10:30 a.m. and return at 2:00 p.m.
Price: $65

Private group tours can be arranged through your Concierge.





Private Catamaran Tour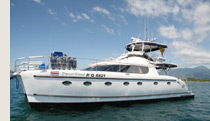 You will never be able to get a better chance to see the most wonderful sunset of your life! Perfect for a group party or family gathering, this trip is completely capable of being custom-made. For an additional fee, work with our staff to add main meals, specialized settings, champagne, a full bar, your favorite music, or even customized entertainment. If you ever wanted to find a romantic way to pop the question, this is it, and our staff stands by to assist. Just give us a call. We will pull out of the Quepos Harbor, cruise the waters adjacent to the cliffs and small islands around Manuel Antonio National Park, and then watch the sun go down with the dolphins and sea gulls.

Package includes:
• Water, soft drinks and local alcoholic beverages • Hors d'oeuvres / Snacks
• Snorkelling gear • Captain and mate on board

Package Base Price $995 (10 person maximum, additional charges apply for parties of more than 10)
Tour time: Afternoon 2pm - 6pm




Jet Skiing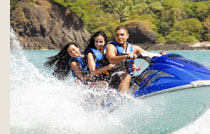 Enjoy a unique 2 hour excursion on Yamaha wave runners to see the sights around Manuel Antonio National Park. Jungle Coast Jet Ski Tours has been in business for over 10 years. Current management has owned the company since November 2007. All of our Jet Skis are low emission because our company is always trying to preserve our precious environment.

Our dingy will bring you from the Quepos pier to our platforms where we have the jet skis. Here your guide will give you a safety briefing and show you how to use the machines. On the platforms we have lockers where you may store your personal items. Each Jet Ski has a small dry compartment where you a can store small necessary items such as cameras.

Included with the Tour:
• Pick up and drop off at any local hotel or home • Fully bilingual guides • Life vests • Snorkling in a pristine bay
• Snorkeling equipment • Snacks and refreshments • Dolphin and marine animal search in the open ocean

Price: Singles:$95 Doubles:$135 | Tour times: 7:30am, 10:30am and 1:30pm



Diving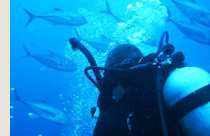 The Manuel Antonio coastline with its 12 islands gives us the pick of numerous dive sites. The majority of our local dive sites are a maximum of 20 minutes from the port and we consider your experience, preferences and local conditions to guarantee your enjoyment. Most of our dives are between 35 and 60 feet, though there are deeper sites for more experienced divers. All dives are guided by a PADI professional who has extensive knowledge and experience at our dive sites so that you will see the most marine life and underwater formations. Dives typically last 45 minutes and you will see volcanic rock formations, with various hard and soft corals. We have an abundant marine life with schools of Snapper and Jacks, plus White Tip Reef Sharks, Angel Fish, Moorish Idols, Parrot Fish, Puffer Fish, Octopus, Eels, Crustaceans, Sea Turles and in season the giant Manta Ray. During your surface interval you can enjoy the beautiful views of the Manuel Antonio National Park Coastline.

General trip information:
• Must have dive certification to participate in this tour, if are not certified can do a


Discover Scuba Diving, and still dive with certified friends.
• Dive at 2 different sites. (2 tanks included in trip) • Includes local transfers from and to hotels in Quepos / Manuel Antonio
• Equipment provided mask, fins, regulator, buoyancy compensator, submersible pressure


gauge and 3mm wetsuit.
• All trips are boat trips leaving from Quepos port, with captain and Divemaster
• Includes: tropical fruits, cookies, juices, water.
• Transport morning: pick up approx 8am / drop off approx 12
• Transport afternoon: pick up approx 1:30pm / drop off approx 5:30pm

Price $90 per person





Rappel Tour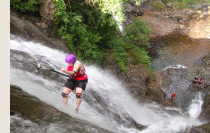 After being picked up from your house, you will be transported through local villages and rain forest into the Costa Rican countryside where your adventure begins. During the journey you may observe plants and animals in the area.

The tour includes the opportunity to rappel two waterfalls: 135 feet high and 165 feet high (no experience necessary), to hike on beautiful trails, cross a swinging bridge 375 feet long, swim in clear natural swimming pools, and experience traditional Costa Rican cooking.
General trip information:
• Minimum age: 8 years old.
• Tour Times: 7:10am and 11:30am.
• What to take: A towel, swimsuit, tennis shoes or similar, waterproof camera, change of clothes.
• Duration: 6 hours approximately.

Price $75 dollars per person.
Private group tours can be arranged through your Concierge.