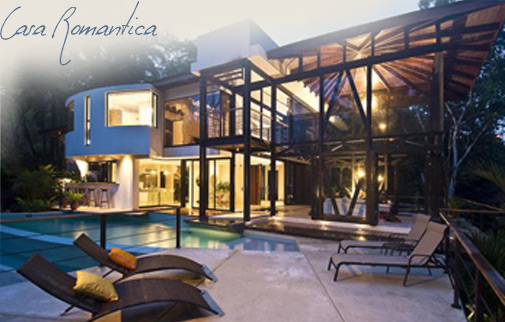 Like our luxury homes within La Reserva, Casa Romantica has also been featured in "Su Casa," Costa Rica´s premier architectural magazine. Designed by an award winning architect, Casa Romantica upholds the La Reserva standard of quality in beautiful Manuel Antonio, Costa Rica.

Located just 50 meters from the La Reserva reception, yet hidden from the road and surrounded by lush gardens and trees, this stunning property encompasses approximately 6000 sq. ft. of overall living space. The main house has four bedrooms while a short meander down a tropical garden path leads you to the separate, fully furnished, one-bedroom guest house.

Casa Romantica's grounds, just as the homes within the La Reserva gated community, is completely gated and secured with an electronic entrance and parking for two vehicles. The grounds are spectacularly illuminated at night by automatic timers providing a magnificent nighttime ambiance.

Upon entering the property, a garden walkway leads down to the house, where a small serene waterfall and large steel door (counter balanced to move with only a finger) welcome you. The grand living room has beautiful 25 foot vaulted wooden ceilings, surrounded on all sides by glass doors which open entirely to the pool, expansive deck and jungle. A unique interior water feature streams through the living room floor, outside to the infinity pool.

SPECIFICATIONS



Casa Romantica can accommodates up to 14 guests
in the main house and the guest house.

Master Bedroom - 1 King Bed
Guest Bedroom 1 - 1 King Bed
Guest Bedroom 2 - 2 Queen Beds
Guest Bedroom 3 - 1 Queen Bed and one single bed optional
Guest House - 1 Queen Bed and 1 single bed
Rent as a four bedroom or as a five bedroom including the guest house.
• Four bedrooms (second level, main home)


with queen or king beds
• Master suite (top level, main home) exotic wood floors, oversized


Jacuzzi tub that opens to the outside and separate shower.
• Security Safe in the Master Suite
• Ceiling fans
• Air Conditioned bedrooms
• Built in closets
• Daily maid and personal laundry service
• Personal Concierge Manager
• Rainwater recycling system
• Wireless internet
• Cable TV
• Laundry Room
• Electric gates, guard house with private security guard, fully fenced
• Fully appointed Gourmet Kitchen
• Indoor/outdoor bar area
• Lighting alcoves
• Vaulted teak ceilings
• Two indoor gardens

CASA ROMANTICA RATES
Weekly Prices for up to 10 People
5 Night Minimum Except where otherwise noted
Each Additional Person $55.00 Per Night - Up to 14 People Total
Christmas & New Year's each Additional person $80 Per Night

2012 Rates
May 1 - May 31 $4,975 / week
Jun. 1 - Aug. 31 $5,975 / week
Nov. 1 - Dec. 19 $5,975 / week
Sep. 1 - Oct. 31 $2,875 / week (7 night minimum)

2013 Rates
Jan. 6 – Mar. 31 $7,975 / week (Easter: 23 March to 30 March, 7 Night Minimum)
Apr. 1 – Apr. 13 $6,975/ week
Apr. 14 – May 31 $4,975 / week (Memorial Day: 25 May to 2 June, 7 Night Minimum)
Jun. 1 – Aug. 31 $5,975 / week (4 of July: 29 June to 7 July, 7 Night Minimum)
Sep. 1 – Oct. 31 $4,975 / week
Nov. 1 – Dec. 18 $5,975 / week
Dec. 19 – Dec. 27 (Christmas) $10,975 (7 Night Minimum)
Dec. 28 – Jan 5. (New Years) $13,975 (8 Night Minimum)

La Reserva Reservation Policies
3 night minimum-stay required. A $500 security deposit payable in Cash is required at the time of client check-in.
Payment Cancellation: 50% of total reservation shall be rendered within 10 days of contract issue. Remaining balance is due 30 days prior to check-in date.
Cancelation policy: No refunds are provided. However, we agree to reschedule reservations within 12 months of original check-in date.
Re-Scheduling: Confirmed rentals can be re-scheduled provided that re-schedule request is submitted at least 60 days prior to check-in date. Deposits will be transferred to new date. The renter must re-schedule within 60 days or deposit will be lost.