The Vacation Buggy
FREE Welcoming Tour In the Go-anywhere ATV Limousine!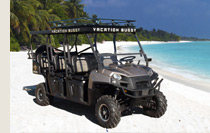 In partnership with Vacation Buggy, the owners of your Luxury Vacation Rental want to ensure your vacation is one of the most memorable experiences from the start - so they have included a Vacation Buggy Welcoming Tour for you to quickly and conveniently get acqainted to the area.

Key locations that will be identified include:
• Various Beaches
• Fabulous Restaurants
• Bars and Nightlife hot spots
• Banks and ATM's
• Grocery Stores and Fish Market

• Pharmacies
• Post Office
• Great shopping spots
• and Much More...

Ask your concierge to schedule your complimentary Welcoming Tour Today!





Buggy Adventure Tours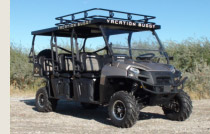 – Private Buggy Tours

–
Duration - you choose!
Design your own tour for your perfect day out. Include a unique destination, picnic or ask that special someone a very important question. These tours are available to couples, entire families or groups. Please enquire for pricing information.

Our favourite suggestions:
Take in the scenic southern route as you travel down the Pan-American highway and visit the small beach town of Dominical. An exciting beach for surfers and those looking to explore the Costa Rican coastline. Continue about 30 minutes south of Domincal into the small yet cultural town of Ojachal, a perfect stop for lunch, as there are a variety of delicious restaurants. You may also be interested in visiting the Hacienda Baru National Wildlife Refuge, Nauyaca Waterfalls or Marina Ballena National Park. Beach and river picnics can also be arranged!



– Jungle and Waterfall Tours –







Our most popular tour, this exciting trip provides an opportunity to enjoy the diverse beauty of the countryside as we travel deep into Costa Rican rainforest on this thrilling four-wheel-drive excursion. With significant wildlife, nature and an overall sense of tranquility, you will experience the jungle at its best. We will travel up the mountainside through beautiful environments, crossing streams, palm plantations, local towns and journey to a spectacular waterfall. After a mild jungle hike, we will cross over a thrilling suspension bridge approximately 130 meters long to two incredible waterfalls cascading 25 and 40 meters into an 8 meter deep natural swimming hole. Upon our departure, we will travel a short distance to one of the most incredible views that you can imagine overlooking the jungle, Savegre River and the Pacific Ocean.

Pick up and drop off will be at your Vacation Rental Home or Hotel.

Scheduled Tour Times: 7:30 a.m. & 11:30 a.m. Duration: 3.5 hour
Price: $79 per person (lunch included).

Private Tour with Driver: $425 for 3 hours.



Manuel Antonio National Park - Naturalist Guided Tour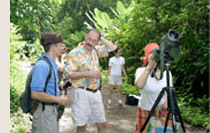 Observe the abundance of wildlife with an experienced, naturalist guide in the most visited national park in all of Costa Rica. Your bilingual, naturalist guide will point out the great diversity of wildlife you might otherwise have missed and will explain the history and geography of the area. Lush tropical jungle surrounding exquisitely beautiful pristine beaches is your playground for the day.

Price $65 per person
The park entrance fee is valid for the rest of the day.
You can stay and enjoy the park and beaches on your own.
(Experience the park on your own for $7 entrance fee)





Mangrove Boat Tour at Damas Island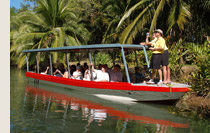 Observe the abundance of wildlife with an experienced, naturalist guide in the most visited national park in all of Costa Rica. Your bilingual, naturalist guide will point out the great diversity of wildlife you might otherwise have missed and will explain the history and geography of the area. Lush tropical jungle surrounding exquisitely beautiful pristine beaches is your playground for the day.

Price $65 per person
Tour time: Varies depending on tide times





Private Catamaran Tour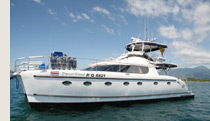 You will never be able to get a better chance to see the most wonderful sunset of your life! Perfect for a group party or family gathering, this trip is completely capable of being custom-made. For an additional fee, work with our staff to add main meals, specialized settings, champagne, a full bar, your favorite music, or even customized entertainment. If you ever wanted to find a romantic way to pop the question, this is it, and our staff stands by to assist. Just give us a call. We will pull out of the Quepos Harbor, cruise the waters adjacent to the cliffs and small islands around Manuel Antonio National Park, and then watch the sun go down with the dolphins and sea gulls.

Package includes:
• Water, soft drinks and local alcoholic beverages • Hors d'oeuvres / Snacks
• Snorkelling gear • Captain and mate on board

Package Base Price $995 (10 person maximum, additional charges apply for parties of more than 10)
Tour time: Afternoon 2pm - 6pm





Sunset Sails Tour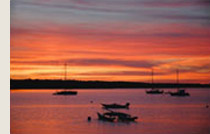 Your adventure aboard our sail-ship begins as you sail down the scenic coast, past the beautiful beaches and islands of Manuel Antonio National Park. As the boat glides quietly under sail you´ll probably see dolphins, which frequently swim in the boat´s bow wake. Occasional whales and giant sea turtles are a special thrill, and even the most avid wildlife enthusiast enjoys the ever-present abundance of sea birds. Your professional crew will guide you through this aquatic paradise while attending to your safety and comfort. They will personally serve you plentiful portions of delicious food with a local touch of flavor. Cold beer, mixed drinks and soft drinks are included also. On the morning and sunset cruise you will stop at a scenic jungle bay where you can swim or snorkel in the calm refreshing water. All of your snorkel gear is provided. Just bring a towel and your swimming attire. Don´t forget the sunscreen. On the dinner tour you can view a beautiful sunset. This will be a truly romantic ending to a memorable day in paradise. Don´t forget to ask about our private charters, honeymoon tours, or private trips to Cano Island, or another personal favorite place.

2 Tours Daily: 10:00am / 1:30pm | $69 per person: Includes food and snorkel gear





Butterfly Farm / Botanical Gardens / Serpentarium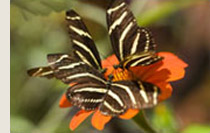 The Butterly Botanical Garden and The Wildlife Refuge as well as the Serprentarium are a living laboratory of nature conservancy, and an example of sustainable development. You will see a variety of beautiful exotic butterflies as well as precious tropical hardwood trees ranging from 150 to 200 years of age, and a vast variety of other fauna and flora, including an amazing array of snakes.

The Butterly Botanical Garden Tour:
$15.00 Adult / $8.00 Children | Bring: Hiking shoes, Insect Repellent and Camera
The Nature Interpretive Walk: $25.00 Adult / $15.00 Children
Bring: Hiking shoes, Insect Repellent and Camera





Villa Vanilla / Rainforest Spices tour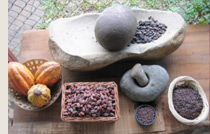 The Villa Vanilla/Rainforest Spices tour is a gentle walk through the plantation with hands-on sensory stops along the winding "epiphyte trail" (air plants). You will experience the sights, tastes, aromas, and flavors of tropical spices, essential oil plants, tropical flowering plants and rock gardens. All tours start at the post-harvest warehouse where we dry, process, and package our spices and explain their ancient origins, history and properties. Our "Flavors of the World" tasting is an assortment of gourmet chocolate, vanilla, and Ceylon cinnamon treats prepared by our pastry chef at our expansive view point. We are by design, a personalized tour. The last stop is our now famous Spice Shoppe, where you can stock up on vanilla beans and extract, true Ceylon cinnamon, cocoa nibs, and other spices for use in your kitchen or as gifts.

We provide a unique "foodie" experience with a major focus on sustainability. As proponents of sustainable development we are also proud to demonstrate the cultural practices we apply on our plantation which has been certified organic since 1992 and Demeter/biodynamic since 2000. Demeter is the oldest and most respected certifier of sustainable agriculture - since 1935.

The Villa Vanilla/Rainforest Spices Tour:
Tour Times: 9am and 1pm Monday through Saturday and 9am on Sundays.
What to take: Comfortable walking shoes, camera, and cash in case you wish
to make purchases at the Spice Shop.
Duration: Half day.
Price: $50 per adult. Children under 13 are half price.
Private group tours can be arranged through your Concierge.





Whale Watching tour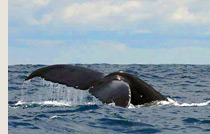 Known as the Whale Coast for the large number of migratory whales spotted here, the humpback whales regularly pass through the Costa Ballena Pacific seas between mid July and October, and again in December through March as they migrate to and from feeding and mating grounds.
This Combo Tour is the best option to see the most of the Marino Ballena National Park. The tour departs from Punta Uvita Beach and visits the famous Punta Uvita Whale Tale, Ballena Island, Tres Hermanas Islets and Ventana Sea Caves. During the tour you will search for Humpback and Pilot Whales as well as three different species of resident dolphins. When granted the opportunity, you might see and hear the Humpback Whales and/or observe the acrobatic displays of the dolphins.
You will also visit the coral and rock reefs to snorkel and observe the wonderful marine wildlife. While cruising in the boat, enjoy the scenic beauty of the coastline of Costa Ballena; observe the diversity of pelagic birds in the Islets and the amazing caverns of Ventanas Beach (if conditions permit our experienced captain will navigate the boat through these wonderful natural water passages to give you a spectacular view!)
Minimum age: 5
Tour Times: Morning tour begins 8:30 a.m. and afternoon tour begins 1:30 p.m.
Duration: 4 hours approximately plus about 45 minutes travel time each way, to and from the coast.
Price: $85 per person for adults and $42 per person for children. Additional pricing may be incurred for transportation to the southern coast.
Private group tours can be arranged through your Concierge.





Kids Saving the Rainforest Tour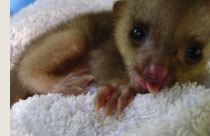 Be part of the solution by joining us for the "Kids Saving the Rainforest" Experience!
Help the rainforest and its inhabitants by joining us for an exciting one of a kind, family oriented, interactive and educational tour. Come learn about the rainforest, it´s destruction and how you can help!
Tour the Kids Saving the Rainforest Exotic Monkey Sanctuary (moderate walking) with our Wildlife Veterinarian or Wildlife Rehabilitator, plus our Organic and Medicinal Plant Gardens. (Indulge your sweet tooth with mouth-watering rainforest fruits freshly cut… by you!)
Paint a rock to leave at the Sanctuary, make a piece of jewelry or postcard to leave at the store to raise funds! Receive 20% off anything in the Kids Saving the Rainforest store (100% of proceeds go towards supporting the sanctuary project).
After the tour enjoy a swim at sunset and a delicious dinner at the Hotel Mono Azul ($10 extra).

Tour includes tour, snacks, and round transportation from Hotel Mono Azul.
Tour Times: Tours from 2pm – 5pm (6pm with swimming and dinner). By reservation only.
Duration: 3 hours, including travel time to the sanctuary.
Price: $35 per person for adults and $25 per person for children.
Private group tours can be arranged through your Concierge.